---
---
controller for Jebao RW , SW and WP pumps 

Version 1 - Not Wifi compatible
Version 2 - Wifi compatible

Choose carefully *No returns on incorrect purchases
2018 April
New Release T1 for 2.0 Version, it can join the router STA method and increase more pump operation
2016 Sept
We continous Upgrade of the T1 Function (Version1.3)
Add:
Feed Mode can schedule 3 time per day
Hardware Feed Mode press 1 time 10 mins
Hardware Feed Mode Double press 2 time 20 mins
Hardware Feed Mode Double press 3 time 30 mins
It;s can allow for customer 1 days to schedule 3 time for feeding their tank
And hardware feed mode provides more faster to config hardware directly to longer exchange water up to 30 mins on feed mode press
OverClock Setting (Only for Version 1.3) 5 to 10%
On the User Define Manual, add "
01092D042B108B162A69D7EF0F" it will increase the Flow to OverClock
2016 July ~ Latest Update with the Firmware with Big Free Upgrade~  Increase Motor can ClockWise or Reserve Function , Add Silent Function + Sink Technology with Pump + Save Energy Operation Since Jebao Pump is change a Version A  or Version B.  It;s will reserve for the pump operation .  Only Fish Street can provides the latest news from Jebao ! (For Feb to May customer which order is no need to upgrade since it is A version for Pump)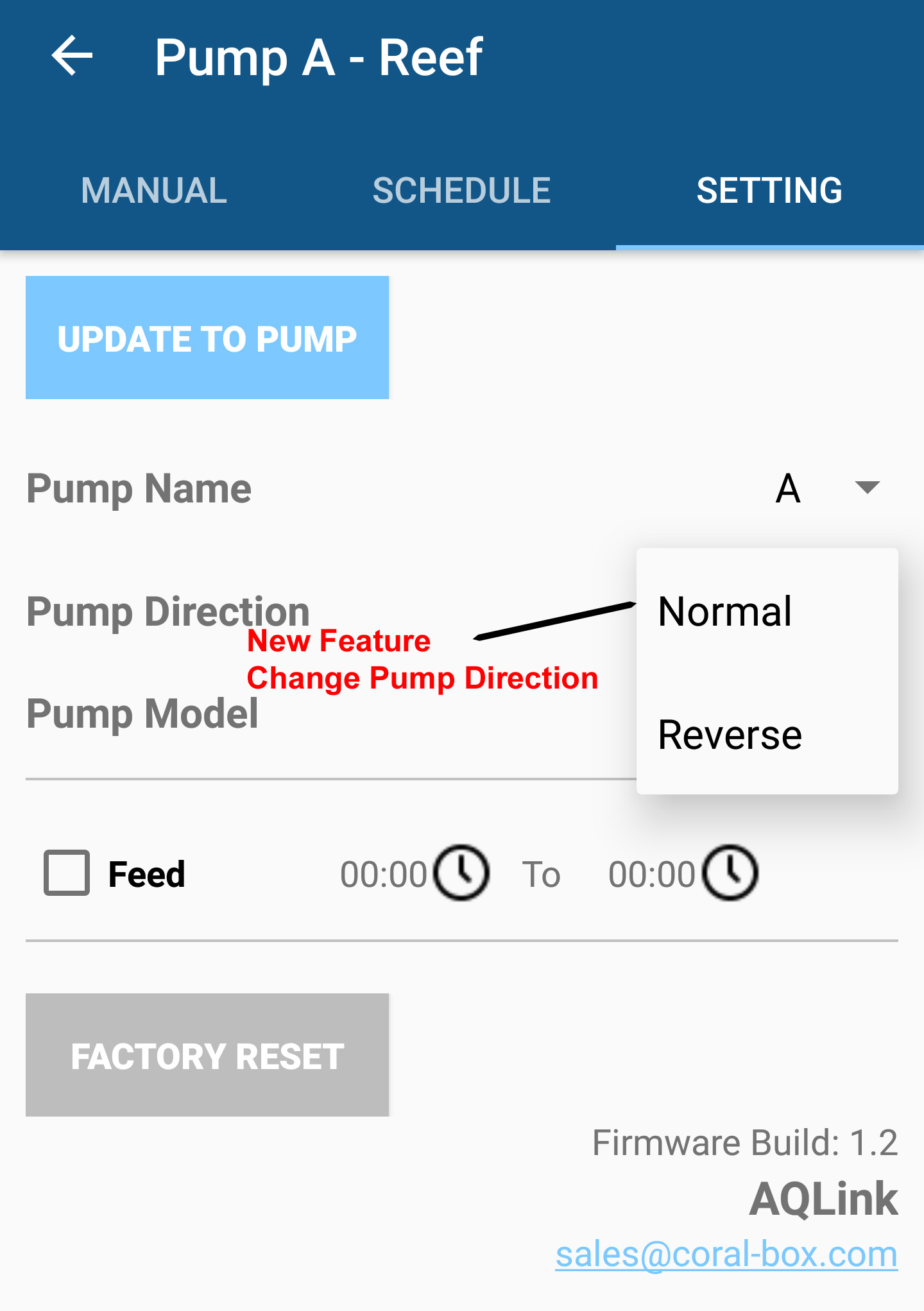 CoralBox which develop a First WiFI DCT/DCS/DCP/Crossflow/QP /OW Pump. Its a REAL WiFI n Make for your DCT /DCS Return become wavemaker Mobile Phone.  CoralBox Lead the Aquarium Pump Market to WiFI now on Jebao Pump.  No more controller with your pump now.
If you are doing a wholesale, we can doing for your own apps and controller with your LOGO(OEM), please contact us

Attention before Order: 
For Setting Jebao Pump can work for 65% to 120%. If you set below 20% , for Jebao pump will based on the water resistance not rotational. Customer need increase to 20% above flow rate to based on the water resistance make the pump not rotational
Maxspect Version Gyre work for XF150 this moment (For Asia / Europe 220V to 240V only). XF150 (110V USA / Canada not Suitable on this moment) 
Our AQLink can work with Both IOS and Andriod system
AQLink controller with apps is not refundable item(Only refundable on the item damage physical panel or shipping damage.  
For the apps is continuous to change to fulfill customer need. Please contact us which function for you want!
---